Discover our new
functional instep zone
! This optional feature means the Juzo Expert can provide more wearing comfort and freedom of movement.
The Juzo Expert is popular with its wearers because of its soft structure and exceptional fit. It is exactly these features that come into their own during movement in particular, thanks to the functional zones.
Fits perfectly with every step: the functional instep zone is perfect for Freedom in Motion. It adapts perfectly to any foot position and combines effective compression with an ideal fit. Accordingly, this optional extra provides more freedom of movement and protects the sensitive skin in the instep area. The visually inconspicuous zone is pleasantly soft on the inside and reduces possible creases in case of significant ankle movements.
The functional instep zone...
provides a consistent pressure gradient in all foot positions
prevent window oedema, thanks to the consistent pressure gradient in all knee and foot positions
provide increased freedom of movement
provide an improved fit, especially while moving
reduce creasing
protect sensitive skin regions
The functional instep zone is available...
from 1 April 2023
for Juzo Expert
for compression classes 1 – 3 (18 – 46 mmHg)
for all leg products with an open or closed toe
functional zones knee and instep available individually or in combination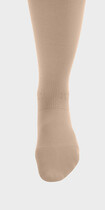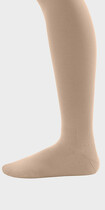 skin fold in the instep area
prominent extensor tendon
pronounced heel
mainly sedentary activities
---